Services for the Chinese Market
transcosmos has been providing services in China for 20 years, accumulating vast experience with e-commerce operations for over 50 companies. Through strong partnerships with major Chinese businesses, we support clients' e-commerce business expansion considering Chinese culture and characteristics.
Since its entry into Taiwan in 2016, transcosmos has been offering its e-commerce one-stop services to clients via various channels that include their own e-commerce websites, e-commerce shopping malls, and e-commerce retail stores.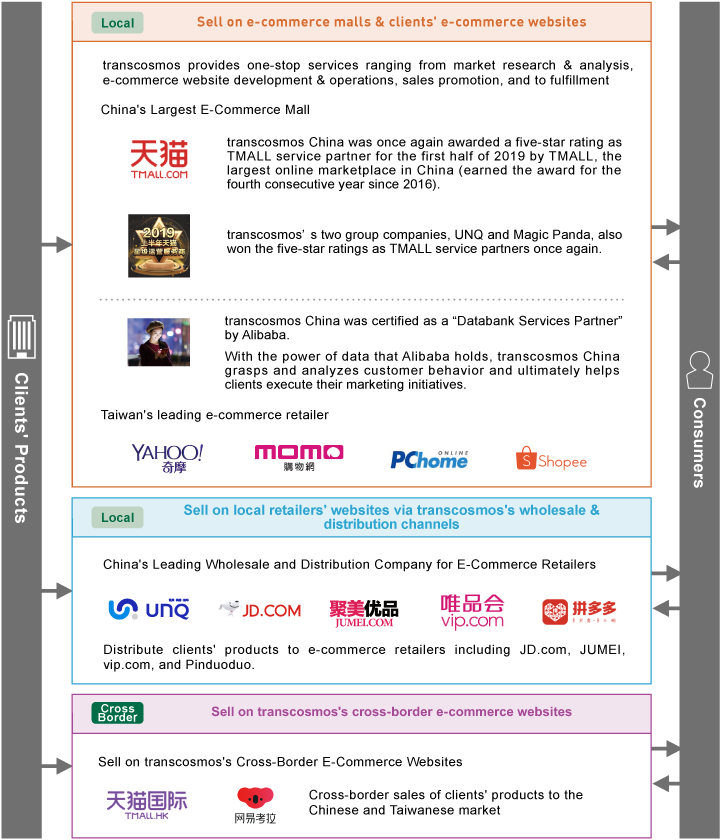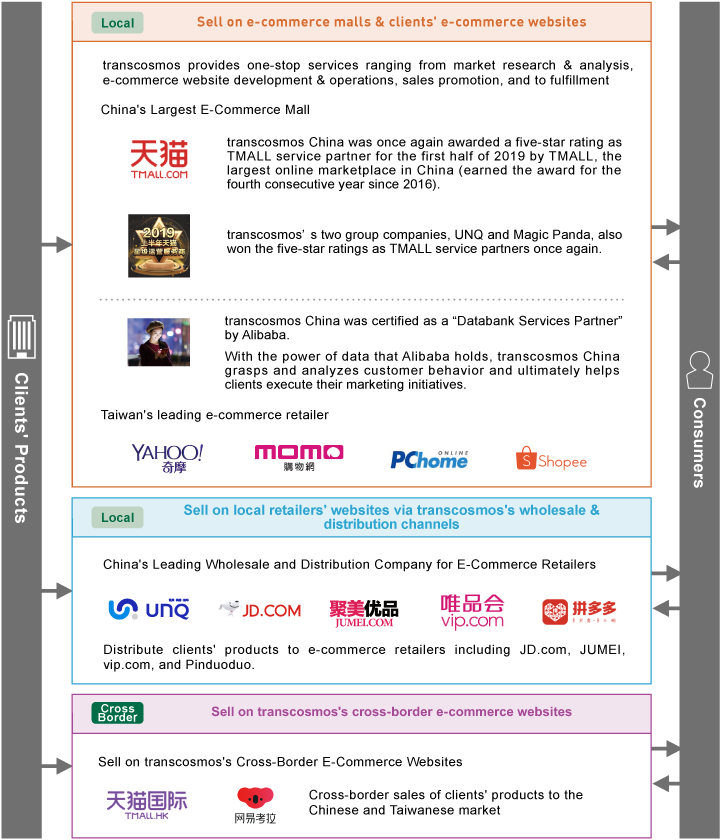 transcosmos Group's E-Commerce Outsourcing Companies
China's largest apparel e-commerce support company Offers O2O initiatives by connecting online store with brick-and-mortars

Magic Panda has been the hidden champion behind the success of nearly hundreds of fashion apparel and lifestyle brands in China's e-commerce marketplace since it opened its door in 2005. Today, more than 400 professionals in strategy, merchandise, design, marketing, operations and after-sales service are leading the company's e-commerce service with a sharp focus on the fashion apparel category.
Major Achievements in China
transcosmos has been delivering the one-stop services to major companies in Japan, China as well as Europe and the United States for their global e-commerce developments. We have accomplished numerous achievements focused on fields such as apparel, consumer products, and toys.

Case Study


Saishunkan
Delivers Facebook / LINE ads for Taiwanese consumers
The E-Commerce Market Trends in China (Results of FY2017 E-Commerce Market Survey by METI)
The market size of e-commerce in China is approximately 11.7 times of Japan. Since China's market has been growing every year, its domestic e-commerce sales in FY 2017 is approximately $111.5 billion US dollars (122 trillion yen) [35.1% increase from the previous year].
The Internet population of China is 7.38 billion people, accounting for one-fifth of the world, but the Internet penetration rate is still developing (83.5% in Japan, whereas China is 53.2%). Due to such aspects including the increase in average income, improvement of the online environment, and the increase in the number of smartphone users, the market is expected to further expand.
Along with this trend, the market of cross-border e-commerce with 70 million users in China has been gaining attention. A leading e-commerce company, Alibaba, recorded the highest sales of 168.2 billion yuan (approximately 2.87 trillion yen) in "Singles' Day" on November 11, 2017.
Particularly, Japanese products are popular in cross-border e-commerce markets and ranked #1 sales by country for two consecutive years.