Delivering contact center services that optimize and maximize the value of customer experience
Contact Center Technologies
We offer services to build customer engagement by providing optimal communication and optimizing our clients' operations. We support the implementation and operation of technologies for the various channels (such as email, chat, SMS, remote, fax, direct mail, and onsite visit) required for clients' contact center operations.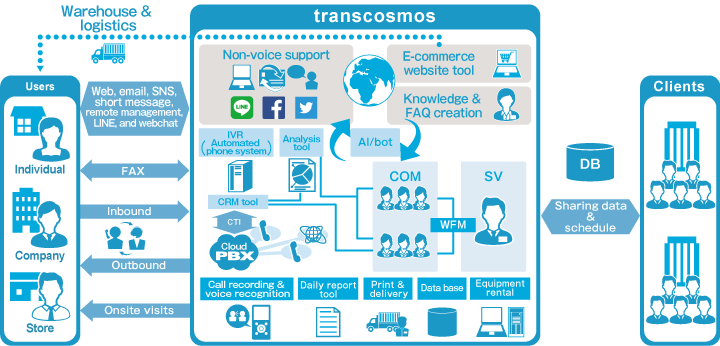 Customer Relationship Management
Provide CRM with customization to meet customer requirements
Contribute our clients efforts to track consumers' purchasing behaviors and increase customer loyalty and satisfaction through optimal CRM implementation.
Contact-Link, Salesforce, and Oracle Service Cloud
Non-voice Services
Support for various messaging apps including LINE and Webchat
Offer non-voice services for smartphone users on top of traditional contact center services to support diverse and essential channels.
Deliver services that enable clients' enterprise marketing promotion and customer communication utilizing the LINE platform.
Provide non-voice services through both agent-supported chat and chat bot.
|
|
|
|
Contact Center Technologies
|
|