Delivering call center services through omni-channel customer communications
Customer Care Services
As customer contact points continue to diversify, transcosmos provides a wide range of customer care services such as "Information", "Customer Support", "Technical Support", and "Repair Support" for technical inquiries of products and services, through voice/non-voice and other channels.
Also, we automate our clients' call center operations through cost center management by utilizing IT technologies with our customer care know-how gained from years of experience, thereby improving customer convenience and our clients' operational and cost efficiency.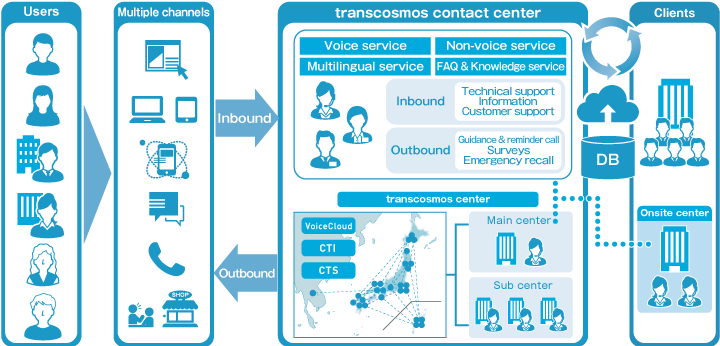 Technical Support
We provide high quality contact center services by utilizing years of experience and the proven track records of technical support.
Offer technical support services for various products including IT products (PCs, smartphones, tablets, etc.), consumer electronics (air conditioners, refrigerators, washing machines, etc.), as wells as automobiles and more.
Information Customer Support
Improve customer convenience and streamline operation/cost efficiency
Support for general inquiry handling, plus customer care operations requiring call center certifications.
Optimize our clients' call center operations through cost center management by utilizing automation technologies.
Knowledge Management
Utilize the customer care service know-how accumulated in the contact center operations
Build/maintain a FAQ website and create its contents based on log activity analysis.
Provide services to various industries, such as the IT industry for technical inquiries, finance, distribution, public utilities and more.
Omni-channel Support
Support diversification of digital communications
Support our clients' customer center omni-channelization utilizing our contact center operation know-how in the latest technologies such as phone calls, email, chat, knowledge management, interactive voice response, AI, and more.
Emergency Contact Center Services
Support for emergencies such as product recall, leakage of customer information, and more
Setup a customer center rapidly in the event of an emergency and provide one-stop support services from notification, setting up a hotline, collection of defective products to replacement delivery.
|
Customer Care
|
|
|
|
|