Support clients' global expansion

Services for the South Korean Market
transcosmos offers e-commerce one-stop services, contact center services, digital marketing services, direct mail services, and field services in the South Korean market. transcosmos has offices and centers in Seoul, Seongnam, Pusan, and other locations in South Korea and is able to provide services tailored to the South Korean culture and characteristics.
transcosmos provides one-stop services for e-commerce development, such as website construction, promotion for attracting customers, call center operation for receiving orders, and after-sales support. transcosmos has also strengthened its e-commerce support system by making Inter Park CS, a South Korean leading online shopping company, a subsidiary.
transcosmos also offers contact center services via multi-channels and CRM solutions effective for analyzing customer trends and marketing data.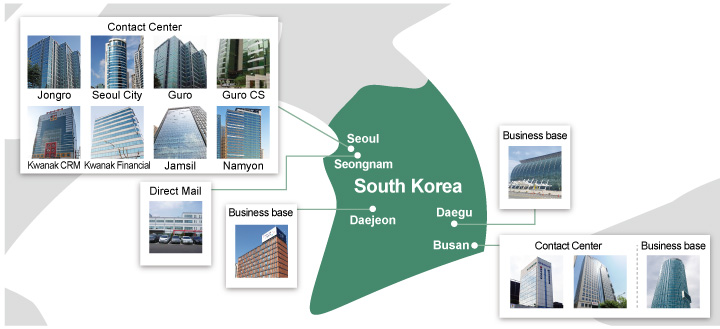 Contact Center Services
Guarantee quality contact center operations equivalent to that of Japan
Provide contact center services via call
Large-scale operational framework having 10 contact centers with 6,400 staff in South Korea
Provide CRM solutions that are effective for analyzing customer trends and marketing data
Digital Marketing Services
Provide the optimum web marketing solutions that fit local market
Provide one-stop services including planning, designing, developing, and operating various web marketing activities for website, campaign website, creatives and smartphone apps
Our specialists, well-versed in the local market, select the optimum media, plan and execute the marketing plans and SEM initiatives
E-Commerce One-Stop Services
Strongly support e-commerce business expansion in South Korea
Provide wide-ranging support from store opening to operation on dominant e-commerce shopping malls, including "eBay," the largest e-commerce shopping mall in South Korea
Received "High Performance Award" from eBay Korea
Direct Mail Services
Provide one-stop support for direct mail operation ranging from creating, printing, enclosing to sending the mails
Our operational framework includes large-scale, the latest printing and binding facilities that enable high-speed mass printing
Prevent troubles during printing and enclosing process through leveraging patented system and workflow. Manage data in collaboration with our contact centers
Field Services
Our dedicated staff support store operations and help expanding sales
Provide onsite support for wide-ranging store operations such as customer support, product explanation, sales promotion, sales management, and running events
Our people are highly talented specialists and are well-versed in various industries and areas
Support our clients to expand their sales by assigning the optimum staff and supporting store operations on site
|
South Korean Market
|
|
|