Support clients' global expansion

Services for the Chinese Market
transcosmos offers Chinese e-commerce one-stop services, contact center services, digital marketing services and IT outsourcing services in the Chinese market. transcosmos has offices and centers in Beijing, Tianjin, Suzhou, Shanghai, Guangzhou and Shenzhen in China, and is able to provide services tailored to Chinese culture and characteristics.
E-Commerce One-Stop Services, provided by transcosmos in China, offers one-stop services such as e-commerce launch support, promotion, website construction & operation, buyers data analysis, inquiry response, order processing, and fulfillment. Through our strategic partnership with TMALL, transcosmos can construct and operate a TMALL store as well as other e-commerce platforms and a branded e-commerce website.
transcosmos also offers contact center services via multi-channels and CRM solutions effective for analyzing customer trends and marketing data.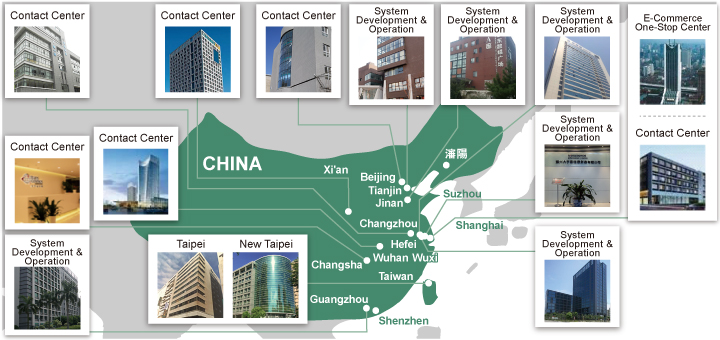 E-Commerce One-Stop Services
Support all kinds of e-commerce channels
Contact Centers Services
Guarantee quality contact center operations equivalent to that of Japan
Provide contact center services via call
Proven track record in providing services for over 70 companies in Chinese market
Provide CRM solutions that are effective for analyzing customer trends and marketing data
Digital Marketing Services
Provide the optimum web marketing solutions that fit local market
Provide one-stop services from planning, designing, developing to operating various web marketing activities for website, campaign website, creatives, and smartphone apps
Execute digital marketing activities targeting Chinese before and during their visit to Japan to lure them into the brick-and-mortars. Plan and execute e-commerce marketing services after the visits to promote them to make repeat purchases
IT Outsourcing Services
Optimize IT cost by providing one-stop support for the clients
Optimize IT cost by rebuilding clients' IT environment
Provide wide-ranging support from planning, designing, developing, maintaining to operating the system according to the system lifecycle
Provide one-stop support for maintenance and operation, including business application troubleshooting and program updates
Provide end-to-end support for system infrastructure from design, development, maintenance to operation