Maximizing the value of social media
Social Media Services
transcosmos experts in various service domains that include consulting, planning & creation, marketing promotion, operation & monitoring and research & analysis work as a team to help clients make the most of social media.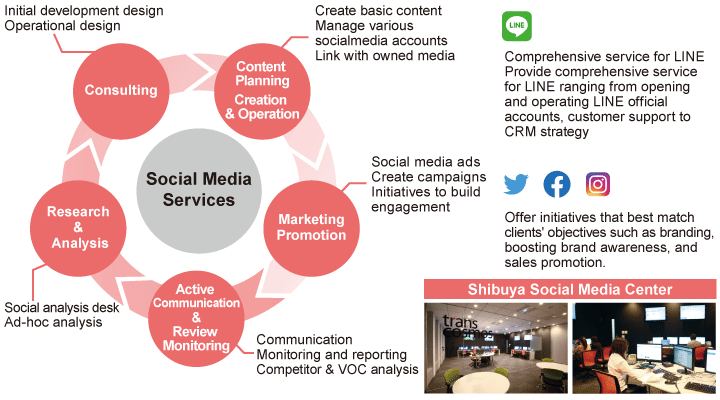 Consulting Services
Create total solutions to leverage social media
Support clients in opening various media accounts, designing communication strategy and developing documents and guidelines to help clients meet their objectives in social media.
Propose, execute and evaluate the performance of social media marketing plans that are aimed at expanding client's fan base, all in one go
Website Operations and Improvement Services
Deliver highly cost-effective operations and visualize challenges
Build the best operational scheme for each client by combining onsite, nearshore, offshore and outsourcing to streamline operations whilst reducing costs

Operations consulting
Center operations

Conduct research and analysis in order to improve user experience. Our experts in building and operating websites carry out analysis from client's perspective.

Research and analyze client's current operations
Develop customer journey map
Heuristic analysis
Competitor research and analysis
Log analysis
Marketing Solutions Implementation Services
Solve clients' business challenges, regardless of industry or scale
Select and propose the best solution for each client's specific challenges from a variety of service offerings that include MX, CXM, and CRM. Our experienced staff help clients implement solutions.

Implement marketing solutions
Provide design and support services to implement "Salesforce Marketing Cloud," "KARTE" and "Adobe Marketing Cloud" that enable marketing automation and cross-channel campaign management.
System Development and Infrastructure Maintenance Services
Propose, implement, build and operate the best CRM that fits to each client's business scale, needs and operations processes.
System platform services

Implement & migrate CMS platform
Security vulnerability diagnosis
Business process readiness assessment for Salesforce