Direct Marketing Consulting Services
PDCA consulting of web advertisement, website, and direct mail based on data analysis.
transcosmos supports our clients improvement of campaign planning based on surveys and data analysis results.
We support clients campaign diagnosis, planning, production, shipping, and effect measurement based on our original evaluation criteria using online and direct mail assessments.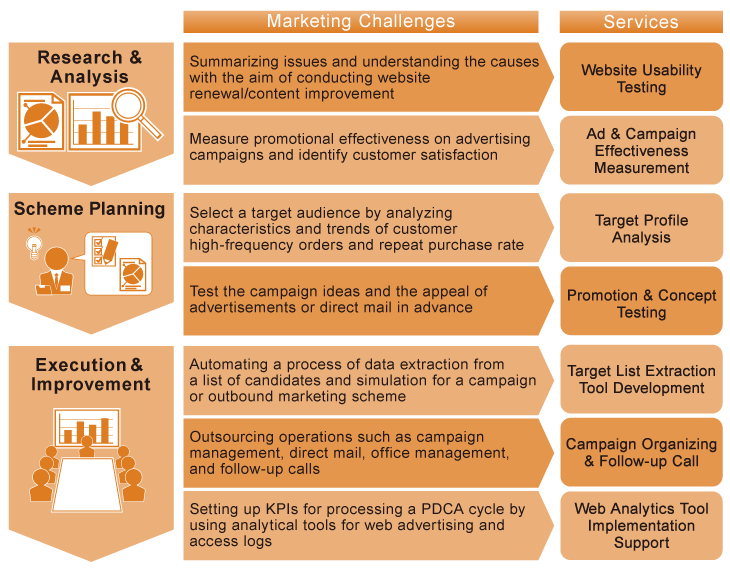 Website Usability Testing
Extract improvement points to enhance content that better matches users needs and usability through eliciting actual status of usage & attitude (U&A), dissatisfaction factors, and improvement requests from experienced users.
Ad & Campaign Effectiveness Measurement
Extract effective improvement points for future planning through collected data based on evaluating advertisements / campaigns and the effect it has on customer psychological behavior.
Target Profile Analysis
Create a buyer persona sheet and list extraction condition form through prioritizing and profiling a target audience based on RFM segmentation and target prediction model analysis.
Promotion & Concept Testing
Conduct concept testing of 4Ps marketing mix (Price, Product, Promotion, and Place) from the customer's point of view, before (or right after) releasing an advertising media or campaign, then extract improvement points for product design & marketing launch plans based on customer evaluation.
Target List Extraction Tool Development
Optimize administrative tasks and maximize marketing effectiveness through automating simulation and extracting target lists of effective campaigns and outbound marketing plans.
Campaign Organizing & Follow-up Call
Build a one-stop operation system that corporates closely with research and analysis team in the Tokyo metropolitan center in order to quickly respond to a campaign requiring data access and outbound operations.
Web Analytics Tool Implementation Support
Build an operational system to process a PDCA cycle through KPI setup and implement tools for analyzing website access log and web advertising.
|
|
Direct Marketing Consulting
|
|